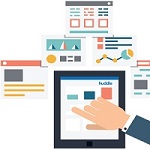 BPM (Business Process Management) is a business solution approach which views a business as a set of processes or workflows. BPM Software enables businesses to create process models, implement, execute, monitor and optimize their processes. BPM focuses on improving corporate performance by managing and optimising a company's business processes. BPM helps organizations decrease costs and increase efficiency which means more revenue and growth for companies and increased speed. BPM helps create competitive advantage by improving organizational agility. BPM platform technology can make any organization more efficient, more agile, and more successful to achieve their mission.
Methodology
The BPM methodology we adopt to optimize client's business processes is to govern the company's process environment to drive consistency, increase agility, and improve operational performance. Everything is Process Streamlining and automating the same would prepare foundation for next big move like RPA, AI or ML. Become process-driven, automate business rules, and leverage hidden potential of your current technology stack.
BPM Software
Our BPM software solution automates, executes, and monitors business processes from beginning to end by connecting people to people, applications to applications, and people to applications. We help the organizations with the right BPM Technology that deliver a variety of process, knowledge, and analytics functionality in a single platform, enabling organizations to quickly and efficiently build and launch custom applications that encapsulate process, data, collaboration, and other capabilities.
BPM Improved Efficiency
We provide the most intuitive business process management suite on the market, making it possible for large organizations to quickly streamline and automate complex processes. BPM not only can improve profitability, it also can expand competitive advantage. How? By using BPM platform technology, an organization can rapidly develop and deploy custom business applications to magnify what sets them apart. These applications ultimately enable a faster response to changing market, customer, and regulatory demands. A BPM-driven organization is not just better positioned to address current challenges; it's better prepared to take advantage of future opportunities.
BPM Workflow
In BPM frameworks, solutions are nearly always based on a workflow or set of workflows. The concept is that work in a real-time business environment should not be static, rather it should progress through a series of processes in time. Basing a solution on sequential activities is effective in encouraging teams to execute goals within a set period. The business process management platform encourages progression through tasks by sending the participants reminders of their tasks' status and due date. Because of this, teams who use these BPMS solutions tend to perform faster and accomplish goals more consistently.
Decreased Costs
BPM platform apart from creating efficiency, has knowledge sharing capabilities and built in collaboration help improve decision-making. The inbuilt process performance reports help optimize workflows. Notifications and triggers help reduce errors and eliminate waste. The smart rules engine develops best practices. Hence BPM platform helps organizations increase workforce productivity, improve product quality and reduce corporate risk. With the BPM solution low TCO, less time to roll out the BPM solutions give a very quick ROI to the organization.
Increased Revenue
Apart from decreased costs, BPM solution also help an organization increase its overall revenues by increasing productivity, accelerating cycle time, and improving customer service. The inbuilt Dashboards help prioritize business activities by their influence on each process. Process performance reports help identify blockages, reduce hand-offs, speed decision-making, and track performance. The enhanced processes results in a faster time-to-market and improve organization image, which increases revenues.
Improved Agility
In the long run, composite process applications built with BPM platforms help organizations become more agile. The smart rules within the BPM solution ensure that processes adapt automatically to dynamic business changes in organizations.
BPM Capabilities
While there are many workflow software's in the marketplace, but the BPM software provides beyond just a workflow – it provides a process platform with BPM capabilities. These capabilities enable the suite to cover complete business scenario. They typically include:
1. Less coding and more configuration: Keeps shorter application development cycle. It's white-box, business user can see everything in process and workflow. Gives more control and agility.
2. Process Modeling: Model processes in BPMN standard with analyst or development perspective within browser
3. Monitoring: Real time insights of business processes and activities through BAM. Also, monitor criticality of the processes like low, high or medium.
4. Audit Trail: Transparency of complete history of the process with all events and sequence- when, how, who and what
5. Organization Hierarchy: Drag and drop role-based user management. Even supports complex hierarchy such as geography-based.
6. Group Chat: Discuss and collaborate within portal. Also helps in increasing efficiency and productivity
7. Built-in QA: Ad-hoc quality management with Quality Assurance Manager.
8. Workflow Execution: From overview of your activities to processes which you can start, get everything under this roof. Search your activities or define-model-deploy your own process right within this functional menu.
9. Process Scheduling: Automate your process triggered by scheduling through intuitive calendar interface. It saves huge time and efforts, for example- no need to develop any background daemon
10. Rules Management: Make your workflow intelligent, create rule sets, and define decision matrix through wizard without any coding. Even write complex business rules through Drool language, available right in portal
11. Report Studio: Ad-hoc reporting interface! Create private, public, administrative or role/organization specific reports from process data through visual interface
Enterprise-grade and Scalable
REST APIs or SOAPs
Integration-enabled, our platform offers integration with almost any other system through REST APIs or SOAPs.
Integration with LDAP/AD
Integrate with your existing LDAP/AD server and assign roles and work items through built-in participant manager.
Multi-Tenancy
Supports multitenant environment, you can scale your infrastructure with public or private cloud.
Frequently Asked Questions